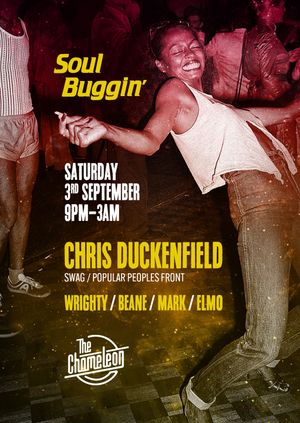 Soul Buggin' with Chris Duckenfield (Swag / Popular People's Front)
3rd Sep 2022 9pm - 3am
at The Chameleon Arts Cafe
Add to Calendar
Event Details
We're back at Nottingham's best kept secret The Chameleon for another dark room disco and we've invited back an old Buggin' favourite Chris Duckenfield. This'll be a great opportunity to see one of the very best to ever do it in an intimate venue with a killer soundsystem.
DJs: 
Chris Duckenfield
 (Swag / Popular People's Front)
Wrighty / Beane / Mark / Elmo

Please note: this is a limited capacity venue, purchasing advance tickets is recommended. Our last event sold out in advance so we'd advise not leaving it too late.
____
Chris Duckenfield Bio

Chris Duckenfield has almost 3 decades of djing safely tucked under his belt that have seen him take in the underground warehouse parties of the late eighties, classic clubs like the Panorama Bar in Berlin, The Sub Club in Glasgow and The Electric Chair in Manchester as well as thundering cathedrals of rave in the form of London's Fabric and Electric Elephant festival in Croatia, Chris Duckenfield has done it all. He was one half of the mighty Swag outfit, ran record labels Odori, Primitive and the more recent filthy disco imprint Popular Peoples Front and that's not even mentioning the 'ssssssh' records he puts out. A firm favourite at Soul Buggin', we can't wait to have him back on our dance floor.