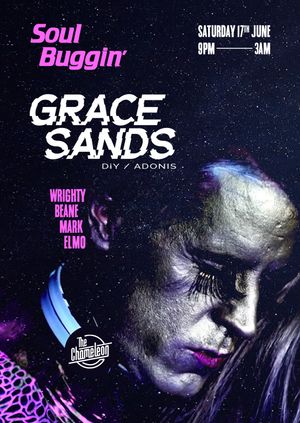 Soul Buggin' with Grace Sands (DiY / Adonis)
17th Jun 2023 9pm - 3am
at The Chameleon Arts Cafe
Add to Calendar
Tickets
There are no tickets currently on sale for this event
If you'd like to be notified when more become available enter your email address below.
Event Details
After a stonking party in March we're returning to The Chameleon on Saturday 17th June 2023 with the mighty Grace Sands joining us for another dark room disco throwdown. We've wanted to bring Grace to Soul Buggin' for ages so we're hyped for this one. 
You know the drill. Killer soundsystem, the best crowd in Notts and vibes on top of vibes. Come swing it!
________
DJs: 
Grace Sands (DiY / Adonis)
________
Grace was one of the co-founders of the legendary free party collective DiY (formerly known as Digs from the production/DJ outfit Digs & Woosh) and went on to change the dance music landscape as we know it in the early 90's. Grace has DJed all over from Homoelectric to Love International and is now a resident at ADONIS and Block 9 in Glasto's NYC Downlow.

________

The Chameleon, 17A Angel Row, Nottingham, NG1 6HL