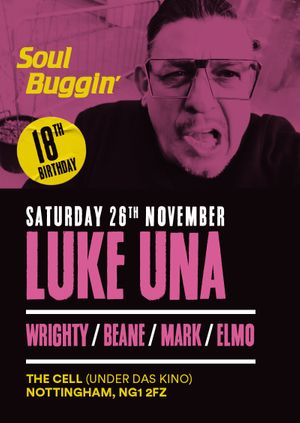 Soul Buggin' 18th Birthday with Luke Una
26th Nov 2022 10pm - 3am
Add to Calendar
Event Details
Soul Buggin' turns 18! What better way to celebrate than to head back down beneath the streets of Nottingham into a dark basement with a killer soundsystem and one of our favourite DJs Luke Una.
DJs
Luke Una (Worldwide FM / Homoelectric / Electric Chair)
Wrighty
Beane
Mark
Elmo
Venue
The Cell (Under Das Kino), 22 Fletcher Gate, Nottingham, NG1 2FZ
Luke Una's played for Soul Buggin' a few times now and everytime he's brought the fire so we can't wait for his return to our dancefloor.
Luke Una Bio
Beginning his career as an original Sheffield house young blood in the mid 1980's Luke moved to Manchester and his partnership with fellow Unabomber Justin Crawford saw the birth of Electric Chair, a cornerstone cult night in the UK underground club scene, Luke was one half of the production team of The Unabombers, whose electric souls edits gained a loyal following. Luke and Justin created Electric Elephant, a Croatian festival paying homage to their wild eclecticism from Balearic, to Brazilian to E soul, House, Disco and Techno.
 Luke's much loved, long running Homoelectric night and more recently Homobloc sell out festival for 10,000 souls has been at the forefront of Manchester's LGBTQ cultural landscape. Lukes Friday new evening show on WorldwideFm has captured imaginations and has already become a cult 4 hour must listen to monthly journey with fans all over the world. Today Luke remains, as ever, at the forefront of a changing scene, pairing the momentous legacy of Manchester's 80s and 90s scene with the delivery of what today's club communities need to get down. A force to be reckoned with in the perpetuation of UK club culture and the owner of a singular Instagram account.