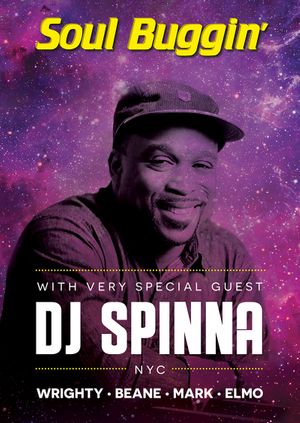 Soul Buggin' 15th Birthday with DJ Spinna (NYC)
18th Oct 2019 10pm - 4am
Add to Calendar
2019-10-18 22:00:00
2019-10-19 04:00:00
Europe/London
Soul Buggin' 15th Birthday with DJ Spinna (NYC)
Friday 18th October 201910pm-4amTrade, 16-22 Goose Gate, Nottingham NG1 1FF▬▬▬▬▬▬▬▬▬▬▬▬▬▬▬▬▬▬▬▬▬DJ Spinna (NYC)WrightyBeaneMarkElmo▬▬▬▬▬▬▬▬▬▬▬▬▬▬▬▬▬▬▬▬▬It's our 15th birthday party and we've decided to celebrate in gargantuan fashion by inviting over from New York the legend that is DJ SPINNA. He is a huge inspiration for us all at Soul Buggin' and we can't wait for this one.Our venue for this event TRADE (formerly Market Bar), has been renovated, redesigned and installed with a full Funktion One soundsystem to turn it into a proper dark basement space to get down to underneath the busy streets of Nottingham.We expect a lot of interest for this one so advance purchasing of tickets is advisedDJ Spinna BioDJ Spinna is something of an anomaly in music.  A humbling example of what it takes to truly succeed within the framework of multiple fields.  With a steadfast work ethic, an obsessively extensive vinyl library and the willingness to pursue the full extents of his roots (Funk, Soul R&B and Jazz), foundation (Hip-Hop) and future (Electronic/Dance music) without any restraints.  A cornerstone of Hip-Hop's late 90's indie-uprise, DJ Spinna made much of his first impression on listeners as the musical background of his group The Jigmastas (having released an impressive slew of 12" singles on his then self-run label Beyond Real during this time) as well as providing the canvats for an array of that era's lyrical giants including Eminem, Mos Def, Talib Kweli, Pharoahe Monch and De La Soul. Turning heads throughout the industry, Spinna has produced and remixed a multitude of artists that are too many to list but take in such heavyweights as Mary J. Blige, Michael Jackson, Donald Byrd, Eddie Kendricks, Betty Carter, Roy Ayers and Al Jarreau and so many more. These releases resulted in the signing to BBE records in 2002 where Spinna released his cult classic full length production LP "Here To There" which crossed multiple genres and garnered the attention of serious music fans worldwide. Yet of all accomplishments, nothing compares to DJ Spinna's celebrated Stevie Wonder inspired WONDER-Full DJ performances. The success of these events have led to several collaborations between Stevie Wonder and DJ Spinna including remixes for "My Love Is On Fire"  and "Sweetest Somebody" from Stevie's 2005 "A Time To Love" release. Most notably, in October 2012 Spinna performed an opening DJ set for the "United Nations Message Of Peace Concert with Stevie Wonder" including appearances by Sting, Janelle Monae, Varlerie Simpson, and other luminary artists. https://soulbuggin.eventcube.io/events/20606/soul-buggin-15th-birthday-with-dj-spinna-nyc
16-22 Goose Gate, Hockley, Nottingham, NG1 1FF
Event Details
Friday 18th October 2019
10pm-4am
Trade, 16-22 Goose Gate, Nottingham NG1 1FF
▬▬▬▬▬▬▬▬▬▬▬▬▬▬▬▬▬▬▬▬▬
DJ Spinna (NYC)
Wrighty
Beane
Mark
Elmo
▬▬▬▬▬▬▬▬▬▬▬▬▬▬▬▬▬▬▬▬▬
It's our 15th birthday party and we've decided to celebrate in gargantuan fashion by inviting over from New York the legend that is DJ SPINNA. He is a huge inspiration for us all at Soul Buggin' and we can't wait for this one.
Our venue for this event TRADE (formerly Market Bar), has been renovated, redesigned and installed with a full Funktion One soundsystem to turn it into a proper dark basement space to get down to underneath the busy streets of Nottingham.
We expect a lot of interest for this one so advance purchasing of tickets is advised
DJ Spinna Bio
DJ Spinna is something of an anomaly in music. A humbling example of what it takes to truly succeed within the framework of multiple fields. With a steadfast work ethic, an obsessively extensive vinyl library and the willingness to pursue the full extents of his roots (Funk, Soul R&B and Jazz), foundation (Hip-Hop) and future (Electronic/Dance music) without any restraints. A cornerstone of Hip-Hop's late 90's indie-uprise, DJ Spinna made much of his first impression on listeners as the musical background of his group The Jigmastas (having released an impressive slew of 12" singles on his then self-run label Beyond Real during this time) as well as providing the canvats for an array of that era's lyrical giants including Eminem, Mos Def, Talib Kweli, Pharoahe Monch and De La Soul.
Turning heads throughout the industry, Spinna has produced and remixed a multitude of artists that are too many to list but take in such heavyweights as Mary J. Blige, Michael Jackson, Donald Byrd, Eddie Kendricks, Betty Carter, Roy Ayers and Al Jarreau and so many more. These releases resulted in the signing to BBE records in 2002 where Spinna released his cult classic full length production LP "Here To There" which crossed multiple genres and garnered the attention of serious music fans worldwide.
Yet of all accomplishments, nothing compares to DJ Spinna's celebrated Stevie Wonder inspired WONDER-Full DJ performances. The success of these events have led to several collaborations between Stevie Wonder and DJ Spinna including remixes for "My Love Is On Fire" and "Sweetest Somebody" from Stevie's 2005 "A Time To Love" release. Most notably, in October 2012 Spinna performed an opening DJ set for the "United Nations Message Of Peace Concert with Stevie Wonder" including appearances by Sting, Janelle Monae, Varlerie Simpson, and other luminary artists.
Media
DJ Spinna Boiler Room NYC
DJ Spinna in The Lab (London)
When Stevie Wonder turned up at DJ Spinna's "Wonderfull" party